Steyning Wheelbarrows Set to Race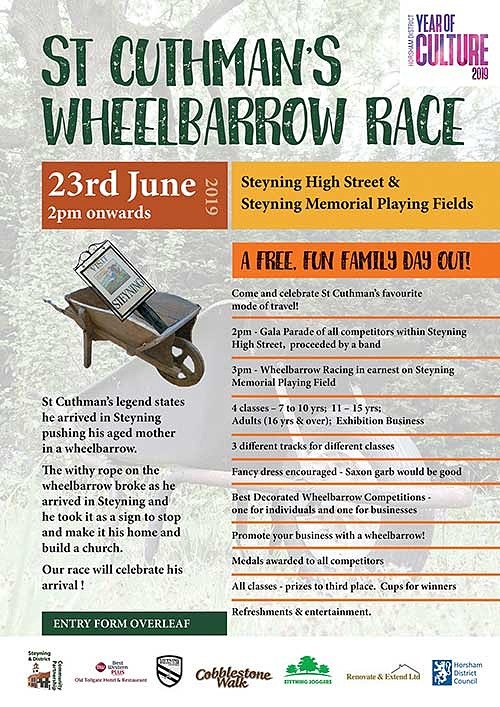 Sunday June 23rd 2019 - 14:00

It is hoped to see many St Cuthman look-a-likes in the High Street & Memorial Playing Fields of Steyning! All set to start at 14:00, when competitors will parade through the Street wearing fancy dress of their choice, but with Saxon garb encouraged, all preceded by a band.

There are 4 classes, 7 – 10 yrs; 11 – 15 yrs; Adults (16 yrs & over) and Exhibition Business.

Along with racing, there will also be a Best Decorated Wheelbarrow Competition – two classes; one aimed at businesses who will be asked to base their decoration on something to do with their trade, and the other to cover all other entrants, where they can use any theme!

After wheeling down the street - Mother & Son both walking behind their wheelbarrow at this stage - will make their way to the Playing Field, where barrow racing will start in earnest.



More info, along with FREE entry forms, can be found on www.steyningsouthdowns.co.uk


Paper versions for entry can also be found at the Post Office TIC, Steyning Centre and the Library and other spots around the town.

Come on, get your team of two together – one St Cuthman for pushing and one 'Mother' for sitting (comfortably?) in the barrow. A fun spectacle, one of which our Steyning Patron Saint would surely be proud - and maybe even a little bit amused.