Steyning C of E Primary School: Victorian Day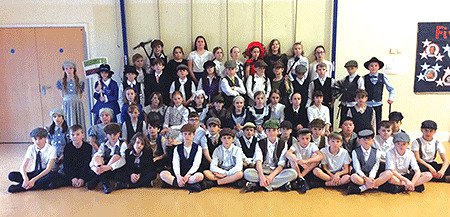 On Friday 28th February, the Year 6 children at Steyning Primary School were given a true taste of Victorian school days, including strict discipline and working in silence.

The Year 6 Victorian Day included a Latin spelling test, numeracy lessons, learning about the British Empire, a handwriting session, sewing, woodwork, manual labour, checks for cleanliness and even the cane! The day began with the Head Teacher, Sue Harrison, leading an assembly completely in role. She laid down the school rules, followed by hymns and a bible reading.

All of the children and staff involved came in dressed for the occasion and thoroughly enjoyed the day! Haidee, 11, said:

'It is different to anything else we've done and it's really fun.'

Olive, 10, said:

'I probably liked it when people went out for the cane, it made everyone more tense so we behaved well.'



In the afternoon, the 11 year old boys left the rest of their peers to partake in manual labour, which they were then rewarded for with

'beef dripping'

, bread and watercress. In the meantime, whilst the boys prepared for the army by doing drills (with PE coach Simon Knowles), the girls got ready to be the perfect housewife, folding material, sorting household goods and sewing.