Steyning Arts: Are you ready to hit the Art Trail?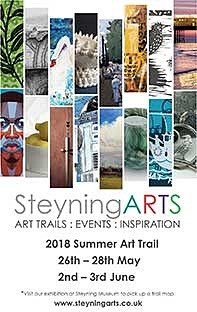 Steyning Arts has a new look this year, a brand new website, and exciting plans for the 2018 Art Trail, which will be held on the first two weekends of the Steyning Festival.

The Art Trail provides a showcase for talented local artists across a broad range of disciplines – including painting, print making, sculpture, ceramics, jewellery, crafts and photography.

It is a perfect opportunity to see artists' work close up, in their own homes and studios, and a chance to appreciate and buy work that is unique, locally created, and eminently collectable.

This year we have over 50 local artists, designers and craftspeople, taking part, across 18 different venues in Beeding, Bramber and Steyning.

Steyning Museum will be Art Trail HQ, with a big map pointing out all the venues, and a display with samples of the work on show. Brochures will be available to guide you on your way, and flag where you'll be able to grab some tea and cakes to sustain you on the trail.

For the first time we'll be showing work at Vicarage Cottage, next to St Andrew's Church. And at the Athletics Club we'll be sharing the space with Steyning Camera Club, who are mounting an exhibition of their work.

On the first Saturday of the Festival we will be hosting another of our popular 'Art in the Park' events. It's on Cuthman Field, right outside the 'big top' tent. We'll provide a professional model for life drawing, lay on all the materials, and invite budding artists of all ages to paint or sketch 'en plein air' – with experienced artists on hand to provide encouragement.

The Art Trail will provide a feast of artist talent plus some great bargains, and should be a lot of fun. So do come along!

And if you are interested in joining in with the artistic community in Steyning why not sign up to become a 'Friend of Steyning Arts'.

It costs £15 a year and means you'll be to invited to 'Meet the Artist' evenings, as well as openings for shows and other social events. Details are on the 'How to Join' section of the website.



Dates for your calendar - The Art Trail will be on:


26th - 28th May and 2nd - 3rd June.
Most venues are open from 11:00 to 17:00.

Art in the Park is on Saturday 26th May.
See the brochure or website: www.steyningarts.com for full details.