Steyning A.C. Romp through Lockdown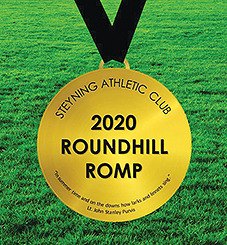 With many traditional running races being postponed or cancelled, Steyning AC have been creating virtual events for their members and local runners.

In May we had the first ever SAC 'Mayrathon'. The event consisted of both members and non-members completing four runs out of Steyning which, if completed successively, created a marathon route (26.2 miles). Spurred on by this success, we decided to aim for one better in July, and host an unofficial 'Roundhill Romp.' The 'Roundhill Romp' is part of the West Sussex Fun Run League series, a 10k race that starts at the clock tower, passes Wiston House and Chanctonbury Ring, returning to Steyning Cricket Field via the Upper Horseshoe. It happens on the evening of the first Wednesday in July, attracting around 500 runners in a normal year.

Our unofficial 2020 version was communicated to local runners via the Spotted Facebook Group. Invitations were also sent to local clubs/run groups. Runners could complete the slightly altered course at any time during the first week of July, in groups of maximum six runners and provide their times.

Throughout the week, over 150 runners completed the unofficial 'Romp'. with runners from: Steyning AC, Steyning Joggers, Upper Beeding Runners, Henfield Joggers, Lancing Eagles, Phoenix, Lewes, Brighton, Hove, Crawley, Horsham, Arunners, Worthing Harriers, and even the Lonely Goat.



The winners were:


Mens: 1st Jon S (Henfield Joggers); 2nd Nik B (Lancing Eagles); 3rd Richard M (Steyning AC).
Womens: 1st Jo M (Steyning AC); 2nd Andrea PB (Steyning AC); 3rd Claire R (Steyning AC).

We continue to share virtual events, with members and local athletes of all speeds, throughout the
summer. See the Steyning Athletic Club Facebook or Instagram pages for exciting announcements coming soon – including the re-launch of the Steynfield (Steyning versus Henfield) event.

We can also announce two new courses in September: a learn-to-run course, and a walk-fit group, in conjunction with the Health and Wellbeing Team at Horsham District Council.