SteynFest: Steyning C of E Primary School Year 6 Leavers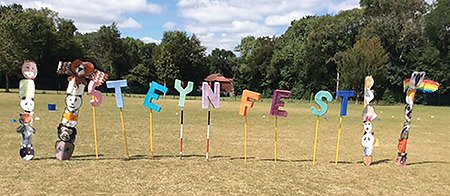 When we realised they would be missing out on so much the Year 6 teachers - Miss Messina and Miss O'Brian - sat down with Mrs Harrison (headteacher) to figure out a way to make the children's leaving celebrations one of a kind: one where no other pupil from SPS could say 'oh we did that too'!

It was when Miss O'Brian spotted an advert for a silent disco company (Hush Beats Silent Disco) that the big plan began. It was the start of SteynFest 2020!

We were SO lucky that we were able to welcome back all 52 of the children who applied for a space in a Y6 or KW bubble. It was amazing to see all their faces again, and despite missing out on their SATs, Residential to the Isle of Wight, Bikeability and their leavers production, they all came back smiling and ready to enjoy their last few weeks at Steyning Primary!

As soon as the children found out about our plans, the buzz and excitement began. In their bubbles the children's used their DT and collaborative skills to start to create decorations including tissue flowers, tassels and the STEYNFEST lettering.

They agreed that the dress code should be festival themed - wellies were welcomed along with glitter, sequins, tassels and outrageous shirts!

On the day of the event, every child received a VIP SteynFest lanyard with their names on and the line up for the day!

The festivals began at 14:30 and it was kick started with the children in their bubbles participated in hilarious socially distance games, Pictionary, face muddles and challenges to complete! After much hysteria, at 15:30, we sat on the field and had the annual Year 6 awards ceremony presented by head teacher Sue Harrison and sports coach Simon Knowles.

Thanks to technology,
our parents joined us on Facebook Live and as always it was an emotional assembly celebrating the wonderful children we have at SPS.

By 16:00 tummies were rumbling so we got the BBQ going. The children all enjoyed burgers, hot dogs, snacks and drinks kindly donated by businesses in our local community. Once fed, the children were ready to get their dancing shoes on.

Over the course of the week, the children created two playlists for our silent disco - one with cheesy beats including 'The Macarena' and a class favourite 'Fruit Salad', and the other with floor fillers including 'Blinding Lights' and 'Little Mix'. There were some great dance moves from children and staff alike, lots of smiles and plenty of pictures taken!

At 17:30 it was time for the Year 6s to leave the building! They took with them a goody bag each filled with vouchers and treats from lots of local businesses and from the teachers at SPS all held together by a balloon.

Our wonderful staff all stayed behind until after 17:30 to make sure the class of 2020 got the traditional Steyning Primary clap out. We all stood 2m apart creating a walk way for our children who were met by their families!

We were so lucky to be able to have 60 of our Year 6s back that afternoon and for those who couldn't make it, we delivered their bag of treats to their houses so we could say goodbye properly from a distance.

It feels so good that we were able to see all of our pupils before they left us to move onto the next chapter in their education. We wish them all the best at their new schools and hope that they pop back a let us know how they're getting on!

We would like to thank the following companies for their support and generosity in helping SteynFest 2020 being so wonderful!

Friends of Steyning Primary School (FSPS) for their generosity in helping to fund the event.

Co-Op Steyning, Chartwells and Martin's Newsagents for donating food and drinks for the BBQ.

Hush Beats Silent Disco - for allowing us to hire the headsets for the children to let them dance the afternoon away.



Goody Bags:


Steyning Sweet Shop for the bags of sweets.

Steyning Tea Rooms for the ice cream vouchers.

Steyning Bookshop for the books and bookmarks.

Steyning Leisure Centre for the sports vouchers.

Truffles Steyning for the gorgeous individually boxed cupcakes.

Our wonderful staff for supporting the event, teaching our Year 6 bubbles and celebrating with the children.

Our families for their positivity and supporting us throughout the year and during Covid-19.

To top it all off, on the Friday, their actual last day we shared a video which we had been putting together for them since the start of lockdown. It was a fantastic success and every pupil had only seen their own part until Friday at 14:45 when we shared the finished product with them!

We chose to use the song 'Hall of Fame' by The Script and 'Will.I.am' - the song was split into 63 parts to make sure every pupil would star in it.. and their Year 6 teachers of course! You can see the video on our YouTube Chanel by searching Steyning Primary School - Year 6 Leavers 2020.

Here are some quotes from pupils who have just left Year 6 and have given permission to use them as part of the article:

'Even though we have missed out on so much this year, Steynfest and the leavers video has made Year 6 2020 a year to remember! Thank you so much to everyone who made it possible.' Haidee Boyt.



'Steynfest was the best experience of my life! it was soooo much fun and I will never forget it. Thank you so much to the sweetshop, tearooms & truffles for all the yummy treats they provided us and to all the year 6 teachers for making this happen!'

Olive Fewtrell.



'I was very lucky to be in such a kind school with loads of really nice teachers. Thank you so much for doing the leavers party- we all had so much fun!'

Amos Misra.

Here are some quotes from parents of children who have just left Year 6 who have given permission for you to use them as part of the article:



'Thank you so much again for making their last few weeks so special, it is just what they all needed and I know it made up for all the disappointment. For all the time they missed you and all the other teachers who came in made up for it ten times over, so thank you from the bottom of our hearts for making it happen......you should feel very proud too.'

Lara Boyt.



'We are so grateful that the year 6 kids were able to celebrate leaving SPS in as much a normal way as was possible, the year 6 teachers went above & beyond to make sure the children felt totally spoilt and had a huge amount of fun at a mini festival including a silent disco & a BBQ. My daughter was so happy and buzzing afterwards and I'm so glad she finished school in this wonderful positive way'

Mel Lacy-Fewtrell.

'We could not have asked for more from Steyning primary school.Not only did Amos have a fantastic year but the teachers went above and beyond for the end of Year 6 celebrations. A huge thank you.' Pauline and Manu Misra.



'The teachers put so much thought and generosity into Steynfest for the Year 6 Leavers. My daughter loved the silent disco and the BBQ. It was a very special day of friendship, celebration and treats. I know the wonderful Year 6 teachers will be missed by so many of the kids. Thank you!'

Christine Hewitt.

Thanks, Lizzie Messina-Reeve, Yasmin O'Brian and Sue Harrison.