October Gardening Journal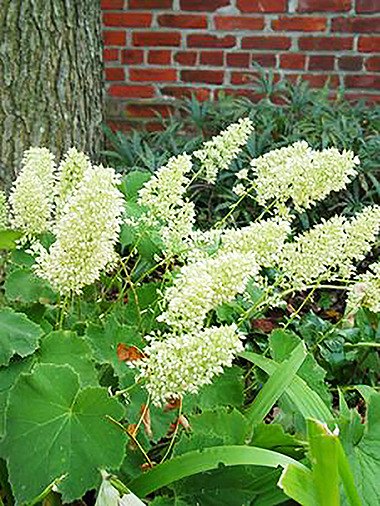 October signals the approach of the winter, a time of low light and fading foliage. It's not quite time to hang up the tools and forget about the garden just yet. Make the most of the better weather and get out while the sun is still shining.
I have recently been introduced to a new heuchera! Having never been a massive fan of the common, glossy leaved plants that are available in all the garish colours you can think of, I have probably turned my head from such introductions in the past.

However, this heuchera really caught my eye, its flowers are bolder than its smaller cousins and its, nearly, evergreen foliage is softer and velvety. The flowers erupt from the foliage in September with fountains of pure white flowers continuing until the frost.

Heuchera villosa, sometimes commonly called hairy alum root, is a species of coral bells that are native to rocky wooded slopes from Virginia to Georgia and Tennessee.

It is primarily noted for its large, hairy, triangularly lobed, sharply-toothed, green leaves that have a velvety texture. The cultivar 'Autumn Bride' was selected for its chartreuse foliage and showy white autumn flowers and introduced by Bluemount Nurseries of Monkton, Maryland.

Heuchera Autumn Bride is a low maintenance plant tolerant of dry shade and a wide variety of other conditions. It's a good, tough and exciting 'meat-and-potatoes' groundcover that doubles as a cut flower too.

It does seem to perform better on richer, moister soils in a lighter aspect however, its foliage seems to be more distinct in the shade. That is not to say that it is not equally at home if grown in full sun too, as long as adequate moisture is provided.

Autumn Bride has no serious insect or disease, its easy to look after with the only real pruning necessary being the removal of the tattered winter foliage in early spring before fresh new leaves emerge.

It may also be advisable to divide plants every 3-4 years to rejuvenate clumps and remove stagnant aging growth. If you want to extend the flowering season, then deadheading will keep the flowers coming but the seed heads are equally as interesting too.

Heuchera villosa 'Autumn Bride' is a lovely foliage plant that is best used as groundcover, grouping or mass planting for a shade garden.

However, I have seen it used in a naturalistic planting scheme too, mixing well with the contrasting textures of the ornamental grasses. It's a versatile plant with lots of character, it can be the focal point of a scheme or the accompaniment.
Planted anywhere in the garden this plant ensures you have something which continues to look great right into the autumn.

Jobs to do this month include:
Ornamental Garden:
• Mulch borders with compost if not done in the spring.
• Continue deadheading if weather is mild.
• Remove fallen leaves from Roses to prevent blackspot.
• Continue to tidy borders of weeds and leaves.
• Transplant any plants that need to be moved.
• Plant spring bulbs such as Daffodils etc. But NOT tulips – wait until November to avoid tulip blight.
• Lift and divide perennials.
• Plant up containers etc for winter bedding displays.
• Apply autumn lawn feed etc.
• Now is a good time to plant trees and shrubs – the soil is moist and warm.
• Sow sweet peas under glass.
• Can lift summer flowering bulbs/tubers and overwinter in greenhouse or can heavily mulch plants and leave in the ground. Eg gladioli, dahlia, canna.
• Cut back herbaceous perennials as they die back.
• Prune climbing roses to avoid wind rock.
• Refill bird feeders regularly.
• Install insect hotels/log piles.



Vegetable Garden:


• Begin planting garlic
• Apply fleece to late season crops when frost is forecast.
• Lift and divide rhubarb.
• Clear away old foliage of strawberries to prevent pest and diseases.
• Pot up herbs and take into frost free greenhouse or windowsill to continue cropping through the winter.
• Complete planting onion setts and plant out spring cabbage.
• Harvest squash and pumpkin if not already done so.