Gardening Journal: Plant of The Month – Crocus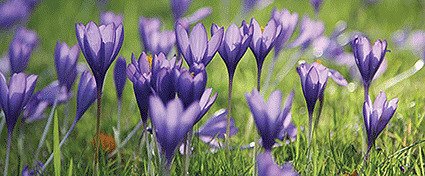 March is the month for new beginnings, with new shoots and flowers appearing in the garden on a daily basis, it's a great time for the gardener. With the winter jobs behind us and the spring/summer jobs yet to come, we take a little break and appreciate all the hard work that kept us occupied and warm through the autumn and winter.

When you see a clump of crocus naturalised and well established in a lawn or meadow you can't help but smile. One of the most well known and loved of the spring bulbs this little plant makes a great addition to any garden, big or small.
Crocus is a member of the Iris family (Iridaceeae), and has a genus of about 75 low-growing cormose species. They are native to the Alps, Southern Europe, and the Mediterranean and are widely grown for their cuplike blooms in early spring or autumn. The alpine species, C. vernus, is the chief ancestor of the common garden crocus. Dutch yellow crocus (C. flavus), is another popular spring species, along with is C. bifloru too. Saffron, used for dye, seasoning, and medicine, is the dried feathery orange tip of the pistils of the lilac or white, autumn-flowering saffron crocus, (Crocus sativus), of Western Asia.

Most crocuses are easy to please and completely hardy. Large Dutch varieties thrive in any soil, other than a bog, and will naturalise readily in grass. Collectable species can be nurtured in patio pots, grouped along border fronts or planted in gravelly scree. Crocus leaves are grassy and unobtrusive, disappearing in late spring. Their flowers, half-closed, resemble champagne flutes as they open to form symmetrical, six-pointed stars, often with contrasting, orange stigmata.
Colours are clear, bright and exciting, many having intricate stripes or subtle shading on their outsides. On a few, the buds are biscuit-beige or pale, silvery grey and when the flowers gape to soak up weak winter sunshine, the dazzling interiors come as a delightful surprise.

They need sun but only during the growth cycle, from February to late April. After that, they're unaffected by shade or dry soil, making them ideal for growing under deciduous trees, perhaps with narcissus to follow. If happy, they'll self-seed over the years and develop natural drifts.

The best way to naturalise crocus is to buy them by the hundred. With a spade, lift small divots of turf, scatter up to six corms onto the soil beneath, gently replace the divots and firm them down. In a few seasons, flowery star clusters will expand into constellations. While clumps will be modest at first, as the years pass, each colourful clump will expand and your garden will look a little more cheerful each year.

Plant of The Month – Crocus

Jobs to be done in March:
Ornamental Garden:
• A general fertiliser could be applied over borders if felt necessary. If leaves look yellow on shrubs then give them a folate feed (liquid feed via watering can).
• Aerate lawn with a wire rake if mild and not waterlogged.
• Remove any dead, diseased or damaged growth from trees and shrubs.
• Finish mulching if not done in Autumn.
• Put manure/rose feed around all roses and check for dead, diseased or dying shoots.
• Deadhead bulbs regularly.
• Now is a good time to plant new Perennials and summer-flowering bulbs. Re-pot or top-dress all containers.
• Weed regularly.
• Edge/define all borders if not done already.
• Plant Roses.
• Sow hardy annuals for summer colour.
• Repair damage to lawns if necessary.
• Harden off hardy annuals sown under glass.
• Cut back any remaining growth from herbaceous/grasses left over from the winter.
• Divide summer flowering perennials like astrantia, hemorocallis, hosta etc.
• Coppice dogwoods/willows etc if not done before now.



Vegetable Garden:


• Prune Gooseberries and red and white currants. Remove deadwood and then spur prune all side shoots back to 2 – 3 buds from the base. Shorten branch tips by one quarter.
• Direct sow shallots and onion setts.
• Harvest the last of the winter crops and compost any un-diseased debris.
• Sow aubergines, cucumbers, tomatoes and chillies in an indoor heated propagator.