2030 Project: Moving from words to action!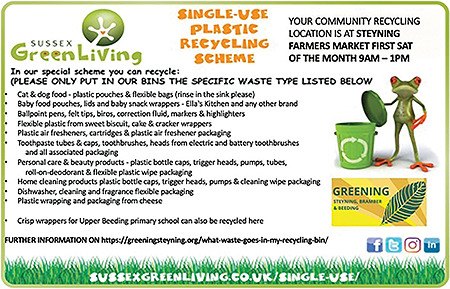 Greening Steyning's 2030 Project has hit the ground running this autumn. The four Climate Action Groups are working on a whole bunch ideas on how to cut carbon emissions and make this a happier, healthier and greener place to live. The first two initiatives have just been launched.



New recycling scheme for single use plastics:


Ever wondered what to do with those pesky plastic items that can't go in the recycling bin. If they end up in black bag waste they will be separated out and sent to Germany or the Netherlands to be burned as fuel.

But now there's an alternative. With our new Terracycle recycling scheme they can be collected separately and melted into hard plastic and re-moulded to make new products. The poster shows which items you can recycle - from pet food pouches to biros!

We'll have collection bins at every Farmers Market in Steyning from November onwards. So start collecting and bring them along!