Upper Beeding Primary School: KS1 Library Visit – Picture Books to Shout About! and Book Week at Upper Beeding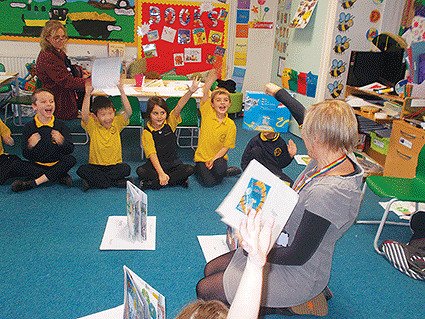 KS1 Library Visit – Picture Books to Shout About! and Book Week at Upper Beeding

At Upper Beeding Primary School we understand the importance of children reading for pleasure and enjoyment because we know that reading is fundamental to all learning and if children enjoy reading they will be more willing to stick at it, even when it might be difficult.

This is one of the reasons that each year we take part in the 'Picture Books to Shout About' award run by the West Sussex Library Services. This involves reading five picture books by five different authors that have been nominated for the award and then voting for our favourite. The winner is announced on World Book Day which takes place in March of each year.

As part of this award, staff from Steyning Library come to visit the school to share the books and to do activities with the children based on them.

Beverley Kinahan, children's librarian, alongside her colleague Liz, visited the school last week and both of them were impressed at how well the children knew the books and the informed opinions they had about all of them. It was a fabulous afternoon enjoying books and having lots of book talk and lots of fun.

We are particularly excited this year as one of the nominees, Chloe Inkpen, who alongside her Father Mick Inkpen has written and illustrated the book Mrs Blackhat, is visiting the school on Monday 2nd March 2020 as part of our Book Week celebrations. Book Week will be an action packed week with visits, not only from Chloe, but also from Knife and Packer, authors of Badly Drawn Beth, and also theatre group West End in Schools who will be working with the children doing dance workshops based on bringing books to life!

We will also be having a day where everyone, including the staff, will come to school dressed as their favourite book character, plus taking part in a whole school Readathon Challenge, raising money for Read for Good, a charity who provide books and storytellers for children in hospital.

Report submitted by Mrs Debbie Gilpin, English Leader.