Towers Girls Success at The Salters Chemistry Festival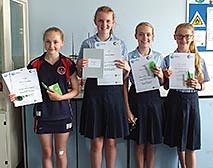 Year 8 pupils, Meghan N, Bea C, Harriet W and Darcey N did The Towers proud at The Brighton University Salters Chemistry Festival on 14th June.

They performed admirably in a range of chemistry tasks and were treated to an amazing chemistry demonstration workshop in the afternoon.

This is an amazing opportunity for our talented scientists, which will hopefully encourage them to even greater scientific achievements in the future.

Mrs Clare Trelfa - Headmistress.