The Steyning Downland Scheme BIG PICNIC 2019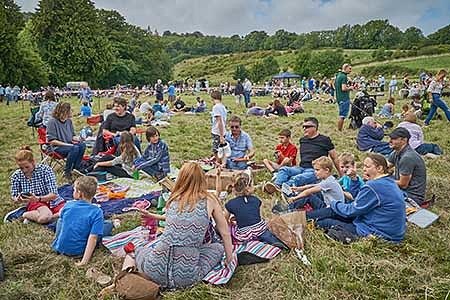 Everyone's invited to our annual Big Picnic, which is happening this year on Sunday 8th September, starting at 12.30pm.

This will be our 14th Big Picnic and it gets bigger every year! In 2018 around 600 people came along to enjoy fun and games for all the family. As well as old favourites such as tug-of-war, egg and spoon, sack races and bushcraft, fun times were had by all painting a large mural, willow weaving, learning how to maintain mountain bikes and even target practice on the Rifle Range, using genuine WW2 rifles (not loaded!). This year we're planning to do all those again, plus the perennial bouncy castle, sumo wrestling and the ever popular fun dog show. We also hope to have some surprises especially for teenagers this year – why not come along to find out more?

The Big Picnic is always free to enter, although we do charge a small amount for some of the activities. All proceeds go to support our conservation work on the Downs. Bring your own food and a blanket and, if you're still hungry, you can select from a delectable range of homemade cakes (thank you SDS Supporters Group!), good ol' bacon butties and freshly squeezed apple juice, squeezed while you wait thanks to Steyning Community Orchard (please bring some apples with you!). If that wasn't enough, for real foodies, we're hoping to be able to announce some special guests for the first time – more news on that soon too . . .

Despite all the fun and games, the most popular activity every year seems to be simply sitting, enjoying a picnic in beautiful surroundings. There's always a relaxed friendly atmosphere, and with everything run by volunteers, there's a real community spirit.

The SDS Big Picnic 2019 will be held on the Big Picnic Field (where else?), on the old Steyning Rifle Range. If walking, best access is via Mouse Lane and Nightingale Lane. If travelling by car, please park in Steyning, or at the Cuthman Centre car park. Periodic tractor rides will travel from the Cuthman Centre to the venue. To find out more about the Steyning Downland Scheme, go to www.steyningdownland.org.