The Steyning & District Community Partbership: Official Invitation to opening Ceremony of the Steyning Gateway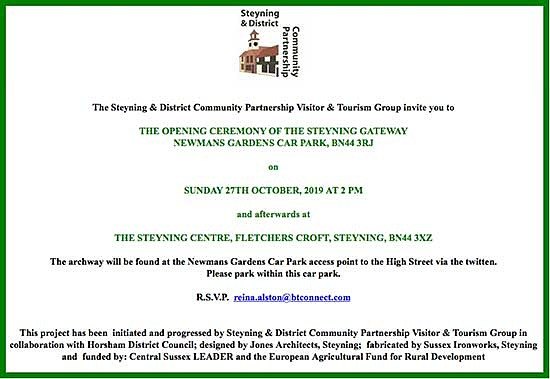 Opening Ceremony of the Steyning Gateway, Newmans Gardens Car Park - Sunday 27th October, 2019 - 14:00.
Afterwards at the Steyning Centre, Fletchers Croft, Steyning.

You will have received our previous email giving you a "heads up" for the date, but this invitation is to give you more detail - we do hope you will be able to join us.

Should this be the case, when you arrive please join the group that will be standing alongside the arch

The archway will be found at the Newmans Gardens Car Park access point to the High Street via the twitten.

Please park withing this car park.

The Reception after the ceremony is at the Steyning Centre, which is a 3 minute walk away - or if you prefer you can just jump into your car and move round to the Fletchers Croft Car Park, which serves the Steyning Centre.



R.S.V.P: reina.alston@btconnect.com



This project has been initiated and progressed by Steyning & District Community Partnership Visitor & Tourism Group in collaboration with Horsham District Council; designed by Jones Architects, Steyning; fabricated by Sussex Ironworks, Steyning and funded by: Central Sussex LEADER and the European Agricultural Fund for Rural Development.