Steyning Stinger Marathon and Half Marathon.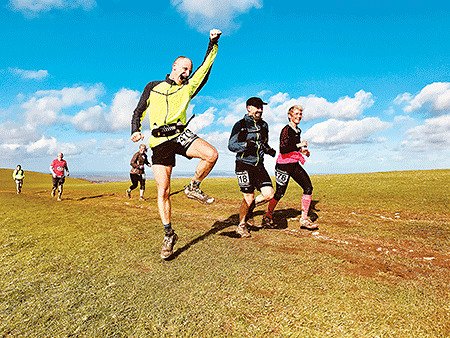 The Steyning Athletic Club 'Steyning Stinger' Marathon and Half Marathon took place on Sunday 1st March 2020.

The tail end of Storm Jorge gifted runners some very muddy conditions across the route – which loops around the South Downs between Steyning, Storrington, Findon and Lancing – as well as some strong winds. Despite concerns earlier in the week, the majority of the race took place under blue skies.

A total of 222 runners completed the full Marathon route of 26.2 miles. This included local runner Ralph, aged 70, of Henfield Joggers, who was completing his 100th Marathon. Wearing race number '100' Ralph commented: 'The organisation of the Steyning Stinger is always fantastic, with wonderful course marshals often freezing in the wet and cold and, of course, the hard work preparing breakfast. In essence, the main reasons I run the Stinger every year are the great people of Steyning AC and, of course, its nearness to Henfield!'

2020 was the 19th Steyning Stinger, and Ralph has run them all.

There were also 316 runners who completed the Half Marathon route. Among them was Beth, 18, of Steyning AC who was running her first half, and doing so on her 18th Birthday – making her the youngest runner in the race.

Staging the event requires 100 odd Adult Members of Steyning AC to volunteer their time, in addition to around 30 considerably less odd Junior Members, as well as support from local non-members, landowners, farmers, the Grammar School and Leisure Centre.

The race itself makes donations to the Steyning Downland Scheme and the South Downs National Park Authority.

To find out more about Steyning AC, visit www.steyningac.co.uk or find us on Instagram.



Quotes from 2020 competitors:



@Lyndon_Cooper

'Fantastic day out running this weekend's Steyning Stinger Marathon. The Stinger was a superbly organised race, a beautiful and challenging course over the South Downs with friendly marshals and cooked breakfast for every runner!... Thank you to the race organisers, marshals and volunteers for putting on a fantastic event that should be on everyone's list.

'

@RedHotPersonalTraining

'Steyning Stinger cross-country half marathon done! A complete deep mud bath most of the way round but such fun, I was smiling the whole way round! Beautiful views and fantastic organisation and marshalling as always. Thank you Steyning AC.'



Photograph: Runners approaching mile 11 (Chanctonbury Ring). Photo courtesy of A&E Pumfman Photographics.