Steyning Parish Council: Community Film Night: Screening: Alone in Berlin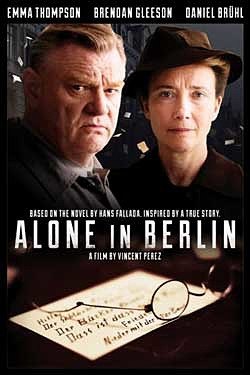 Wednesday 3rd January - 19:30 - 22:00
The Steyning Centre, Fletchers Croft, Steyning



Screening: Alone in Berlin



Emma Thompson, Brendan Gleeson and Daniel Brühl (Rush) star in this powerfully moving, true-life drama-thriller set in Second World War Berlin, based on the international bestseller.

Berlin 1940. The city is paralysed by fear. Otto and Anna Quangel are a working class couple living in a shabby apartment block trying, like everyone else, to stay out of trouble under Nazi rule. But when their only child is killed fighting at the front, their loss drives them to an extraordinary act of resistance.

Tickets from The Steyning Centre at £6.00 and includes tea or coffee during the interval, wine can be purchased at £2.30 per glass.

Doors open at 7pm for a 7.30pm start.