Steyning Parish Council Community Film Night: Screening -DARKEST HOUR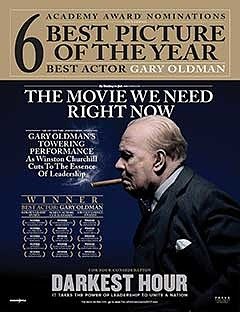 Wednesday 1st August - 19:00 - 22:00
The Steyning Centre, Fletchers Croft, Steyning

Steyning Parish Council Screening: DARKEST HOUR

During the early days of World War II, with the fall of France imminent, Britain faces its darkest hour as the threat of invasion looms. As the seemingly unstoppable Nazi forces advance, and with the Allied army cornered on the beaches of Dunkirk, the fate of Western Europe hangs on the leadership of the newly appointed British Prime Minister, Winston Churchill.


While manoeuvring his political rivals, he must confront the ultimate choice: negotiate with Hitler and save the British people at a terrible cost or rally the nation and fight on against incredible odds.


Gary Oldman won the Best Actor award this year in the Oscars, BAFTA's and Golden Globes. Not to be missed!!
Tickets are available at the Steyning Centre at £6.00 per ticket which includes tea or coffee at the interval.


Wine can be purchased at the cost of £2.50 per glass. Doors open at 19:00 for a 19:30 start.