Steyning Museum: WWI Armistice Centenary Exhibition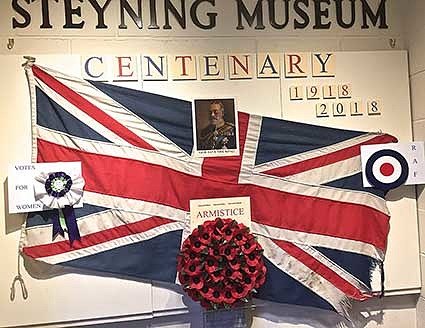 Steyning Museum: WWI Armistice Centenary Exhibition

'Armistice' was first intended as a small exhibition to honour the part that the people of the Steyning played in the First World War. However, asAndrew Woodfield, exhibitions director, says: 'It soon became clear that the 100 year anniversary deserved a larger and more diverse exhibition. Two important milestones were also celebrating their centenary – the foundation of the RAF and women gaining the vote.'

The Exhibition was launched in November with a splendid Armistice Lunch, made and served by our brilliant catering team. A hundred people feasted on home made bread and soup and were also treated to a slice of 'trench cake' made from an authentic recipe. This cake would have been sent to the men in the trenches.

The exhibition is both fascinating and very moving. As with almost every community in the United Kingdom, this area lost many brave men in the war and their memory is honoured here in the section named 'Sacrifice and Loss.' A file has been made highlighting local men who did not return from the war. From this research the team were able to offer St Andrew's parish church a resume of every man named on the World War 1 Memorial in the church.

The Museum archives provided a great many of the items on display, but also members of the community have lent some wonderful memorabilia handed down by family members. An appeal in the Museum Newsletter produced many items .From embroidered postcards from the Front, to items such as the 'hussif' sewing kit that went with a Steyning man to the Middle East, all have a special poignancy. In fact, the exhibition team have struggled to fit all the wonderful objects in a small space!

1918 was also a special year for women's suffrage and also for the foundation of the RAF. The exhibition covers these topics, and features a splendid model aircraft, lent by the Brighton Toy Museum.

Our researchers discovered that three women who were active in the Suffrage movement eventually lived in Steyning and their stories are told here, illustrated by a costumed dummy in contemporary dress with the colours of Suffrage.

Andrew Woodfield pays tribute to his dedicated and hard working team who spent many hours putting the whole display together over the past months. The many wonderful comments in our Visitors Book show how much warmth and appreciation has been felt by the public after their visit. Andrew says 'The feedback has been phenomenal'.

The exhibition continues until May and is certainly worth a visit – if not two or three.