Steyning Late Night Christmas Shopping: 18:00 - 21:00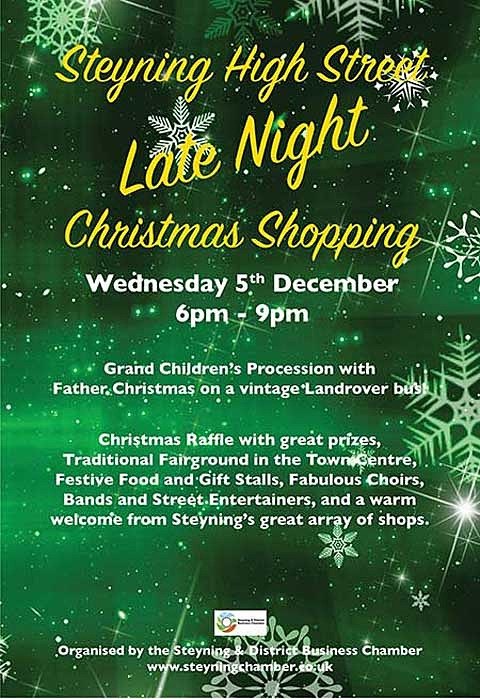 Steyning High Street Wednesday 5th December 18:00 - 21:00

Organised by Steyning & District Business Chamber. www.steyningchamber.co.uk

STEYNING & DISTRICT BUSINESS CHAMBER LATE NIGHT CHRISTMAS SHOPPING STEYNING HIGH STREET, WEDNESDAY 5th DECEMBER, 2018 - 18:00 to 21:00

Father Christmas will be leading children from Steyning C of E Primary and Upper Beeding Primary Schools on the Children's Parade starting outside the White Horse from 18:00 and will be accompanied by Stephen Davies and his jazz band.

There will be a Fairground in the town centre car park, local choirs, fabulous bands and our very own mad Christmas Elf, Tom Foolery. As usual, the High Street will be buzzing with a wide and wonderful array of entertainment, stalls and welcoming shops.

Come and join us for an evening of fun, festivities and seasonal shopping.



Entertainments Programme



6.00: White Horse end:
Start of Steyning Primary and Upper Beeding Primary Schools' Children's Choir Procession, following Father Christmas and the Stephen Davies Jazz Band



6.05 - 7: White Horse end after the parade departs:


David Clancy and Jon Harding present the ever popular Live Lounge. First up, amazing local band Speedboatz



6.15 – 6.40: Bookshop end:


Steyning Primary School and Upper Beeding Primary School Joint Choirs sing rousing seasonal songs and carols

6.30: Onwards Outside the Chequer Inn:
The fabulous Stephen Davies Jazz Band throughout the evening.



6.45 – 7.30: Opposite Sussex Produce (or thereabouts)


Two Fantastic Local Choirs singing seasonal songs: Vocal Fusion, a lively male voice a capella chorus. The Kaleidoscope Singers a popular mixed voice chamber choir.



6.45 – 7.15: Bookshop end:


Tomfoolery the mad Christmas Elf with his very funny show.



7.05 - 8.00: White Horse end:


Live Lounge: Axis, a great young local blues-rock band.



7.20 – 7.45: Bookshop:


The ever popular Steyning Woodcraft Folk children singing cheery Christmas songs



7.30 – 8.00: Opposite Sussex Produce Company


Yuletide Blowers band playing a superb medley of Christmas music.



7.45 – 8.15: Bookshop end:


Tomfoolery up to his tricks again



8.05 - 9.00: White Horse end:


Live Lounge: Middle 8. This great local covers band will get you singing and dancing right through to the end of the evening.



8.15 - 9.00: Opposite Sussex Produce Company


Melodic sounds from Pete Varkala, Maurice Sherlock and Mick Bullen with their band Cobbled Together.



8.15 - 9.00: Bookshop end


Dance along in this great finale with the wonderful local band The Majors with the legendary Keiran Mellikov

6.30 – 8.00: Steyning Bookshop
The popular children's author Emily Gravett will be in the shop, signing her fabulous books. Plus the traditional bookshop mulled wine and mince pies will be served.

8.15: Town Centre by bus shelter Grand Raffle Draw

With many thanks to David Clancy, Jon Harding, Pete Varkala, Jill Allen, Sarah Pargeter and Corrine Wellby for providing and coordinating the musical entertainment.
And to wonderful Zoe Peate and Gary Prior for organising music for us even though they couldn't be at the event this time.
And to Steve Pearcey for his great MC-ing skills and Tom Aubrey for being you know who!

BIG THANK YOU FROM THE STEYNING & DISTRICT BUSINESS CHAMBER
The Steyning & District Business Chamber look forward to welcoming you to this year's Late Night Shopping Event.
We do hope that you enjoy the evening. The town will continue to sparkle and shine all through the festive period with our display of Christmas lights and trees bringing a traditional feel of Christmas to Steyning.
The Steyning & District Business Chamber funds and provides The Late Night Shopping Evening and the Christmas lights and appreciates the support of those businesses and residents that enable this to take place once again. The Chamber would like to specifically acknowledge the kind generosity of its members as shown below who make this a truly special event:



SPONSORS


Steyning Parish Council (generous donation towards the cost of Christmas lights installation) H J Burt / Compass Mortgages / The Steyning Bookshop.

Raffle Prizes kindly provided by:

68
Booti
Chris Morgan
Cobblestone Tea Rooms
Edward Woodwood (Cobblestone Walk)
Flicker Rose
Get Waisted
Gifted Musician
Gris et Blanc
Hamilton Graham
The Little Sweet Shop
Mamma Mia
Osborn Humphreys
Steyning Osteopathic
The Sussex Produce Company

Any sponsorships or raffle donations received too late for entry will be listed in January's edition.