Steyning High Street Late Night Shopping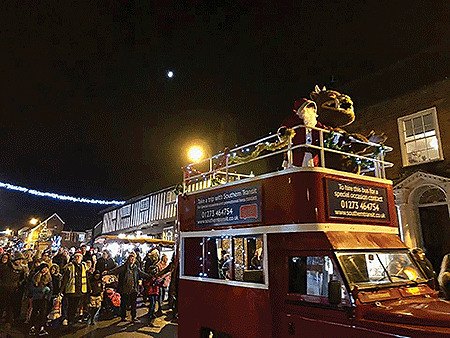 We were so lucky with the weather - very cold and crisp and no rain at all.

Father Christmas and the Gruffalo looked great leading the lantern-lit procession in their open topped miniature double decker bus, serenaded by a traditional jazz band and accompanied by masses of children.

The evening air rang with carols and Christmas songs, the street stalls and the fairground sparkled and the street was filled with the delicious aroma of mulled wine, hot chestnuts and tasty food.

As ever it was an event that was wonderfully supported by the folk of Steyning, and the shops and businesses really appreciated their support.

The Business Chamber committee members were delighted with the results of their hard work and as usual thanks are due to their friends and family, to the sponsors and raffle prize donors, to MC Steve Pearcey and to the Woodcraft Folk parents who very capably marshalled the road closure - not an enviable task.

So far we have one name that was left off the list of sponsors and donors: Steyning Osteopathic Services kindly donated a support pillow to the raffle.