Steyning for Trees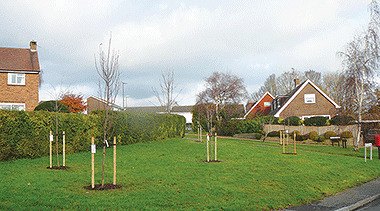 Despite amazing community effort, afraid we are not quite there yet only 950 Trees planted because of the lockdown and Tier 2. See below for SFT`s plans for the extra 50.

Thanks so much for all your words of delight and support over the appearance of the lovely trees on the verges. Well Planted by the WSCC contractors. Only downside being some of the soil is not great, but we know the teams in the 7 roads will look after them well, watering them in the summer with recycled water.

This has been a great community 'coming together' in each road and many thanks to the initiators who have encouraged their neighbours to choose their tree, donate and be involved in its positioning and care.

We now have over 50 residents involved. We have 18 trees on the waiting list for next year and are busily fund raising from charities to meet this demand as SFT still has to pay an average of two thirds of the ££150 to WSCC.

These trees will provide shade and beauty when walking for generations to come and as Darren Moorcroft (CEO Woodland Trust) says are

'literally the air we breathe'





Hedgerow and Tree Planting:


Many thanks to our excellent volunteer tree planters from the community who under the expert guidance of Dave Buckett plant the 60cm whips using a T-cut minimising carbon capture loss and disturbance to the soil.

So far we have used the Woodland Trust`s tree packs for Pollinators, Wildlife, Wild Harvest inc. Fruit and Nut Mix, and for our 50+ trees to be planted as a copse we will be using Wildwood which is suitable for wet areas. This will be planted on Shona and Richard`s land where we have already put in 90 hedgerow trees.

Enormous thanks to private landowners and the PC who are not only taking the trees on their land but donating as well. A great contribution to Steyning`s wildlife corridors firming up the one coming from Steyning Centre to Abbey Road, over the by-pass to a field there and following on to Shona and Richard`s and out into the countryside via King`s Barn Lane.

It is said the best time to plant was 30 years ago the second best is NOW. So its good to hear that the Sompting Estate, funded by Sussex Giving who funded SFT last year have planted 7,000 hedgerow plants.

Countryfile programme devoted almost entirely to tree planting - Sunday 29th November. I expect many of you watched the excellent Countryfile programme on Sunday encouraging everyone to plant trees to counteract the effects of Global Warming. They are planting 750,000 trees across the UK, 1 for every child starting school this year. They want everyone to report how many trees they have planted so STEYNING FOR TREES will be doing that.

There is plenty to be positive about and many thanks to all the organisations and individuals who help us by donating so we can all do our bit to fight this crisis facing the world.



Happy and hopeful New Year from all at Steyning for Trees.