Steyning for Trees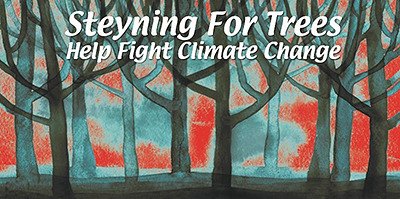 Steyning For Trees has just received a Countryside Award from CPRE Sussex.



Darren Moorcroft (CEO of the Woodland Trust):


'Trees eat carbon dioxide for breakfast, but they are much more than CO2 sponges with bark.

They filter the air we breathe , slow flood waters, and provide safe havens for our wildlife. They are our most powerful natural tool to tackle climate and nature emergencies'

.

And the recent survey by Greening Steyning put tree planting at the very top of Steyning's wish list.

Thanks to the many people who are supporting us by donating for trees on their verges, promoted and funded by SFT and planted by WSCC on their verges. Planting this autumn, for starters, on 7 different roads.

We hope to donate trees, or a hedge, to help towards replacement of the ash trees (and biodiversity) lost on the SDS.

Looking forward to seeing you at our stall in the market – some time during the autumn.