Steyning Downland Scheme Upper Pond Repair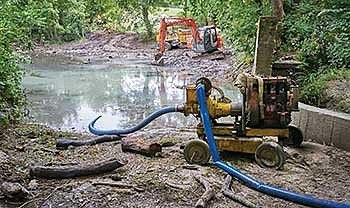 Thanks to a lot of hard work by Bill Kear, we're well on the way to restoring the Upper Pond on the Rifle Range.

Despite the best efforts of SDS volunteers, the pond had leaked water badly in recent years and had become a muddy puddle in the summer months. Kears spent several days in August, clearing out silt, pulling out overhanging vegetation and plugging holes in the pond bottom with clay.

Although it looks like we still have at least one leak, more work can't be ruled out as yet.

The condition of the pond is very much improved - we're looking forward to seeing wildlife recolonise next spring.

Thank you very much Bill Kear for doing the whole job for us, and at a massively discounted price and to Tescos Bags of Help for covering our costs.