Steyning Downland Scheme: Ring Ouzel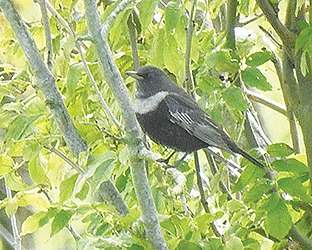 Ring Ouzel

Members of our eagle-eyed birding group were delighted to spot several migrating Ring Ouzel (Turdus torquatus), skulking in the bushes on Pepperscoombe.

Ring Ouzel are upland birds but pass through Sussex about this time of year, on their way to their wintering grounds in Morocco. Their numbers in the UK crashed by over half during the 1990's and continue to fall, although nobody seems sure why, as populations elsewhere are doing much better.

In any case, these Ouzels are the 96th bird species to be recorded on the Steyning Downland Scheme - we are now only 4 species away from the ton! A big thank you to Colin and Janet Holter for the record and the photo.

If you would like to join the SDS birding group, please contact Bob Platt.