Steyning Downland Scheme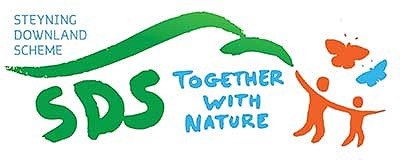 If you're anything like the venerable editor of this newsletter, you may well be thinking 'Yes, what on earth did happen to 2018?', so here's some quick highlights:

1 With funding from the Wilson Memorial Trust and the Wiston Estate, we opened our brand new Gateway building, powered by renewable energy (thanks to Bright Spark Energy), with a green roof (the bits around the solar panels) and with surely the longest information board in Steyning (with special thanks to Stephan Sibbald at the South Downs National Park Authority and local geologist, Tom Aubrey).

2 We opened our brand new Wild Play Area for toddlers and young children on the Rifle Range, thanks to generous funding from the Coop and lots of hard work from Elfie Gloster and the SDS Supporters Group.

3 We had a serious go at restoring the Upper Pond, thanks to funding from Tesco, our SDS Friends and with the help of Bill Kear (more work will be needed in 2019 though).

4 We ran 21 special events, attended by over 850 people, including record turnouts at the Big Picnic and Christmas Wreath Making events - huge thanks again to the SDS Supporters Group for those.

5 We planted over 200m of new hedgerow - and amazingly most of it seems to be still alive after a very dry summer.

6 We regained pole position as being the best place in the UK to see the Brown Hairstreak butterfly - thanks to loads of prickly Prunus pruning by Sarah Quantrill and the Conservation Volunteers.

7 We started up the Path Patchers, led by Christine Supiot and the Coppice Group, headed up by Pete Varkala.

8 We restored a WW2 target to full working order and even had a go at firing at it (sort of), thanks to Justin Russell and the Rifle Range Volunteers.

9 Working with Steyning Grammar School, we brought literally hundreds of school pupils onto the Steyning Downland and persuaded them to get stuck in to some practical conservation management with special thanks to Christine Humphreys and her team.

10 We set up the poetry tin scheme which has proved an astonishing success, with some really excellent poems left by passers by.