Steyning Downland Scheme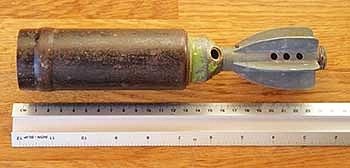 A couple of weeks ago...

A couple of weeks ago, the South Downs Rangers were kindly putting up some fencing for us at the back of the Rifle Range, when they unearthed what Inspector Clouseau would have instantly recognised as a 'beumb'.

Following a bit of drama and a visit from the bomb squad, it turned out not to be the exploding kind after all, but a 2 inch illumination mortar, used by the army to light up targets at night.

Our resident Rifle Range expert, Justin Russell identified it from photographs taken at the scene (with thanks to Justin for the above photograph, from his collection).