Steyning Community Orchard: Wild Homes to Let...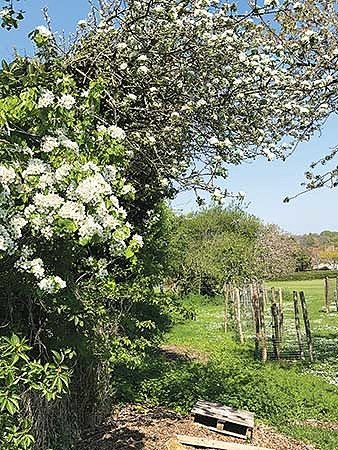 As the days grow shorter and the very last of the fruit ripens in our Community Orchards, perhaps it is time to pause and reflect before the planting programme of the winter begins. Time to think again about why our 2 Community Orchards are important.

There are the obvious rewards; the fruit for everyone to share but there are also other benefits. They are places to enjoy, to relax, places for children to play, for people to meet and importantly they are an oasis for wildlife.

'Traditional' orchards have long been havens for wildlife. They were originally planted with widely spaced fruit trees allowing tangled mats of grass sprinkled with wild flowers to flourish amongst the trees. They were often enclosed by thick, abundant hedgerows full of nesting sites and food for birds. There were areas of shrub and as the trees aged, they decayed offering perfect conditions for invertebrates and fungi to thrive in. A rich mix of different habitats; tree cover, scrub, hedgerows, unimproved grassland where the soil has lain undisturbed for a long time free from artificial fertilizers, these orchards provide homes for insects, fungi, birds, reptiles, small creatures like bats and mice and even larger mammals like badgers and foxes.

At a time when so much of our wildlife is under threat from loss of habitat, intensive farming and the impact of climate change, traditional orchards are a lifeline, offering food, shelter, areas for breeding and corridors for wildlife to move along between one habitat and another.

But these 'Traditional Orchards' are in sharp decline. Ninety percent of such orchards have disappeared since the 1950's. Sadly, almost half of those that remain desperately require some tender loving care.

The Memorial Playing Field Community Orchard was originally planted as an orchard in the late 1930's. It would have flourished during the dark years of the war. But as it became commercially unviable, gradual decline set in. When the idea of restoring the orchard literally took root, only a few trees remained. We now have a new orchard full of young trees but it has a long way to go before it becomes a 'traditional' orchard offering our wildlife a suitable 'des res'. There are things in its favour; there is a hedgerow along the south side which attracts the birds and areas of long grass calling out for crickets. Bulbs have been planted to entice pollinators like bees in the early Spring and there is decaying wood for all those creepy crawlies. There is evidence of badgers, foxes and mice, the compost bin has lured in slow worms and there are butterflies and myriad flying insects in the summer and as dusk falls there are the bats.

The Downland Orchard, planted on virgin land at the base of the Rifle Range, contains a rich mix of grass and flowers, there is a hibernaculum at one side of the orchard where adders spend the winter, kestrels and buzzards hunt above, there are nightingales close by, new hedgerows have been planted around the orchard, and felled wood has been left to decay. Here too there is lots of potential for wildlife.
So, we need to keep working on this aspect of the orchards and for this we rely on the many people who support us.

Which is why we are holding a Supporters evening on Saturday 19th October at the Cricket Club in Steyning. 19.30 for 20:00 start. Come along and meet the team, find out more about the Community Orchard, what we have achieved so far and plans for the future, and enjoy a drink at the bar.