Steyning Community Orchard News: Water, water everywhere (except when you want it!)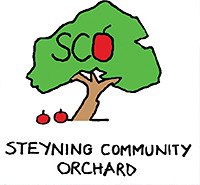 It is the second week in August as this article is written, and we are in yet another hot dry spell, with no rain in prospect.

This is particularly galling, as you will recall the incessant rain we had last winter, that meant we had to postpone one of our tree planting days as the ground was underwater.

This was followed by a fantastic Spring when the trees flowered their best ever and huge numbers of fruit were pollinated and began to develop. Then the rain stopped, the temperature rose, the soil dried out and plants began to suffer.

Met Office data show that the Adur and Arun catchment areas have had the least expected rainfall of anywhere in the country between May and July.

So it is not surprising that our fruit trees, especially the young trees, are suffering from drought stress and/or heat stress. Symptoms of these include wilting and yellowing of the leaves, advanced leaf fall, and premature fruit ripening or fruit drop. When drought stress and heat stress coincide, scorching of the leaves occurs, their edges dry out, and the leaves turn brown.

In a garden situation, watering can be carried out regularly, but with over 50 trees in our 2 main orchards, and we can only do so much. But hopefully our efforts will keep the trees alive and we will still get a decent crop of apples despite the challenges, and that next year our rainfall is spread out rather more evenly across the year!

Now on to a happier topic. We have just agreed the final tree planting positions on the Memorial Playing Field Community Orchard with the Parish Council. It will take us another 4 years to complete the planting here, but thanks to the generous folk of Steyning, we already have donors for all the trees that have been agreed.

We will be planting the first five of these, and also the last four trees on the Downland Orchard on the Steyning Downland Scheme this coming winter.



We have booked a stall at the Steyning Farmer's Market on Saturday 3rd October.



With Apple Day cancelled this year we wanted to show that we are still here and active in the Community. We will be doing some apple pressing beforehand, and will have lots of bottles of lovely apple juice made from local Steyning apples for you to sample and buy.

So do come along and have a chat with us about these plans and buy some apple juice!

Look forward to seeing you there.