Steyning Community Orchard News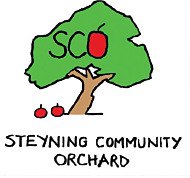 Apple Day held on the 22nd September. Despite a terrible weather forecast (thunderstorms and heavy rain) and the challenge of setting up on a new site, we were delighted with how the day went. The weather cleared quickly whilst we were setting up in the morning, and the good folk of Steyning and beyond came in their hundreds to celebrate our Apple Day on Fletcher's Croft.

It was a shame to leave our Apple Day home of the last 5 years at our Community Orchard on The Memorial Playing Field, but it was becoming more difficult to organise the event there because of access problems and lack of a power and water supply. But the move to Fletchers's Croft field was a great success. Every stall was very busy, and an estimated 400 people came along throughout the afternoon. We sold out of cakes and apple juice. The apple presses were kept busy with people arriving with their apples to juice.

Riverside Brewery kept everyone well lubricated. The music was great. The children's activities marquee was heaving, and the face painter had a queue all afternoon. Lots of people left their apples for us to try and identify. Whilst not the main objective, our finances are now assured for more than another year, enabling us to plan for more events, equipment and more tree planting.

We thank the Steyning Festival Committee, who had the foresight to install a power and water cabinet on the field, ahead of last year's festival, thus allowing groups like ours to also make use of it. Thanks also to Horsham District Council (owners of the field) who dealt with our application and many questions quickly and efficiently, and averted a last minute disaster by dealing with an electrical problem in the supply cabinet a few days before the event. They even got the grass cut for us.

Special mention for the Steyning Downland Scheme who allowed us to borrow their Big Picnic marquee at the last minute, after we saw the forecast for that Sunday. Even thought it didn't rain too much, it made a good dry, secure space for our musicians and their appreciative audience.

Also thanks to Simon Zec for the use of his truck for transporting all our stuff, to Pete Varkala for loaning the music equipment and for playing with his band 'Once a Harbour', and to Simon Buck and friends playing under the unflattering name of 'Cobbled Together'! Finally to Roger Brown for once again coordinating the whole event.

A big thank you to all of you who came along, and to the 33 helpers who made it happen. We seem to be part of the Steyning social calendar now, and certainly plan to do it again next year!

The seasons move on, and Apple Day and Harvest mark the end of the fruit growing year for us. We now start to think about our winter activities. We are finalising orders at our tree nursery for this year's tree planting, planning to prune all our growing trees (we now have over 60 of them at the 4 sites we manage), and organising our Wassail.

This year it will be on Saturday 18th January, starting at the cricket club. More details of this next month.