Steyning Community Orchard - Apple Day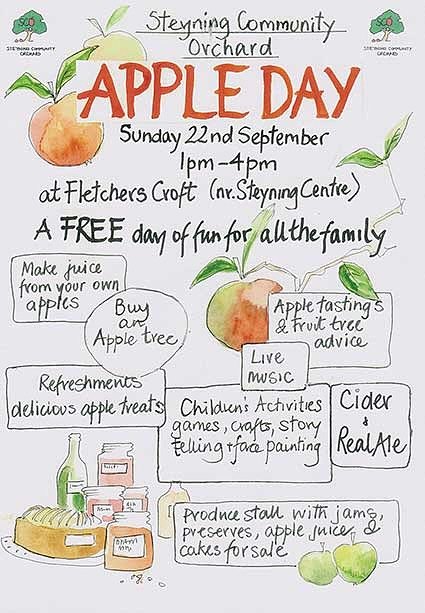 Sunday 22nd September. 1:00 to 16:00
Fletcher's Croft, Steyning. (opposite the Church)
Please come and join us for our 6th Apple Day in celebration of National Apple Day.

The first National Apple Day was held at Covent Garden in London on 21st October 1990, with that date chosen as being the middle of the apple season. Over 1000 such events are now held at this time of year all over the country, celebrating our apple heritage, local orchards and recognising and preserving local apple varieties.

NOTE. We have changed the venue this year. We'll be at the Fletcher's Croft field, opposite St Andrew's Church, where the Festival Big-Top was sited last year.

This new venue will give us access to water, power, free parking and toilets, none of which are readily available in the Community Orchard on the Memorial Playing Field.
We will also have more space to spread out a bit more. So do come and help us celebrate all things 'appley'.

• Bar with real ale and cider (courtesy of Riverside Brewery)
• Live music from 3 local bands
• Lots of Children's activities with crafts, games, storytelling and our lovely face painter. (All free except modest charge for face painting)
• Apple pressing and tasting. We'll have two apple crushers and presses in operation, so bring a couple of bags of your own apples to press, and for a small donation, we will help you to produce your own delicious apple juice. Or just help us press our own apples, taste it, and hopefully buy a bottle to take home.
• Refreshments with yummy appley cakes and treats, hot drinks and apple juice for sale.
• Apple display and tastings. Over 40 varieties of apple for you to see and try, including lots of local apples you've probably never seen or even heard of.
• A wide choice of apple trees for sale, all grafted and grown by us.
• Lachlan Rae, the Head Gardener at Wiston House, will be joining us. So bring along all those fruity questions, and between us, we ought to be able to answer them!
• Crafts and other country-based stalls.

We are mindful of reducing our use of plastics etc, so all our drink cups are paper based, and our apple juice bottles and sample cups are made of PET and are fully recyclable).