Steyning AC Roundhill Romp results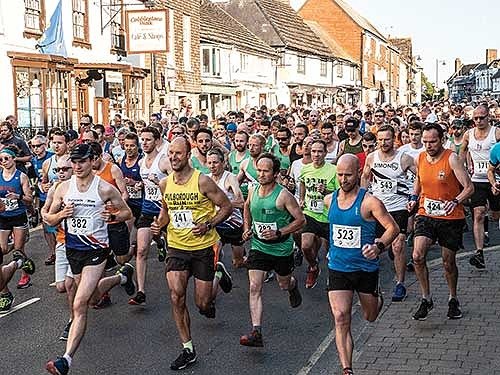 548 local runners completed the 2019 Roundhill Romp on the evening of 3rd July.

The 10k race, hosted each year by Steyning Athletic Club, is a highlight of the West Sussex Fun Run League calendar. The adult race – which loops from Steyning Clock Tower, past Wiston House and Chanctonbury Ring, and then back via the South Downs Way to Steyning Cricket Field – was won by Gary Tomlinson of Horsham Joggers in a time of 36 minutes and 34 seconds.

The first lady was Sophie Coleman of Arena 80 AC, who completed in a time of 40 minutes and 42 seconds.

Of the many competitors, a good number were running their first competitive races. Many had only started running via a 'Learn to Run' course with their local clubs since in 2019. Steyning Athletic Club, like most clubs who are members of the fun run league, are always happy for new people to join their weekly training runs.

Those near to Steyning can find out more about getting involved by making contact via the Steyning Athletic Club Facebook page, or steyningathleticclub1951 Instagram.

Romp night also includes a Mini Romp event of approximately 1 mile. A total of 116 under-16s completed the race, which was won by Charlie Leedham of Worthing Harriers, in a time of 5 minutes and 20 seconds.

First lady finisher was Emily Carman, in a time of 5 minutes and 42 seconds.

Congratulation and well done to all who took part. We encourage anyone wanting to get fit or take part in events such as this to contact their local running club to find out more.