Sompting Abbotts recalls VE evacuation and requisition 75 years ago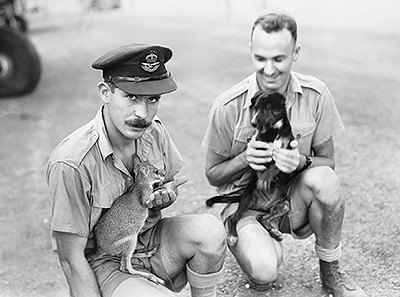 Sompting Abbotts recalls VE evacuation and requisition 75 years ago

Did you know that at this time 75 years ago, Sompting Abbotts' pupils had been evacuated and the building requisitioned by the army. Or that Australian soldiers had installed a resident kangaroo?!

Like hundreds of other stately and country homes across the country, Sompting Abbotts was taken over by the Army.

During WW2, no house was exempt, with the grandest stately homes re-purposed to house everything from schools to maternity homes, from military hospitals to war supply depots. Nearby Roedean School has been requisitioned by the Admiralty as a depot and Lancing College by the Navy.

It was mostly Canadian Allied Forces (and a kangaroo!) that were billeted at the manor house of Sompting Abbotts for the duration of most of the war.

Headmaster, the late Nigel Sinclair, recalled in his memoirs in 1974: 'Even now, we're often visited by men who were here in those days.

Several Canadians have told me that they had a resident kangaroo here for some time. They found it wandering on the Downs.

It was thought to have belonged to an Australian regiment, although they could not be traced. Eventually it drank some engine oil and unfortunately died, to be buried in the grounds with some ceremony.'

This is almost certainly true. Australian soldiers liked to smuggle kangaroos (and possums and koalas) as mascots and morale boosters during both world wars according to Australian Geographic and www.warhistoryonline.com

The pupils at Sompting Abbotts stayed at the school until the escalation of war in 1940 forced its temporary closure and the boys were moved to safe building in Wales.

The headmaster at the time, George Rutherford, who soon joined the RAF himself, wrote: 'We stayed on for some time and even received boys from another prep school evacuated from Kent. Under instructions from the A.R.P. (Air Raid Precautions), we prepared our cellars for a retreat during air raids. We filled all cracks with sodden newspaper to keep out gas in case gas bombs were dropped. On the surrender of France, though, we decided that we had to evacuate.'

The soldiers left their mark. You can still see today where they engraved their initials in the render around the door frame of the Main School. They were responsible too for the small missing parts of the great gilt mirror that stands today above the fireplace in the Dining Room. They sawed bits off and took them as souvenirs!

Soon after VE day, the Sinclair family would arrive to re-open the school in 1946. Not that the army had left it good condition. Nigel Sinclair remembered: 'Trenches had been dug in the grounds and tanks had been parked on the tennis lawn. In an effort to help, the army had painted most of the interior with a bright green paint, traces of which can still be seen today in various places.'

The Sinclair family resurrected the former manor house (now a Grade II listed building) as a thriving Sussex independent prep school for girls and boys aged 2 - 13 years.

Today the school is still run by Nigel Sinclair's widow, Patricia Sinclair, Principal, and their children David, Bursar, and Ruth, Director.

Sompting Abbotts Preparatory School is a historic school in West Sussex for children aged 2-13. It was founded in 1921 and is set amidst 30 acres of grounds in the South Downs National Park. The main destination senior schools to which pupils have gained scholarships, exhibitions and awards since 2007 include Lancing College, Brighton College, Hurstpierpoint College, Seaford College, Sherborne, Worth, Dulwich College, Farlington, Burgess Hill Girls and Towers Convent School.

Sompting Abbotts Preparatory School, Church Lane, West Sussex, BN15 OAZ. Tel: 01903 235960. Email: office@somptingabbotts.com .