Sompting Abbotts Prep School named winner at UK Content Awards 2019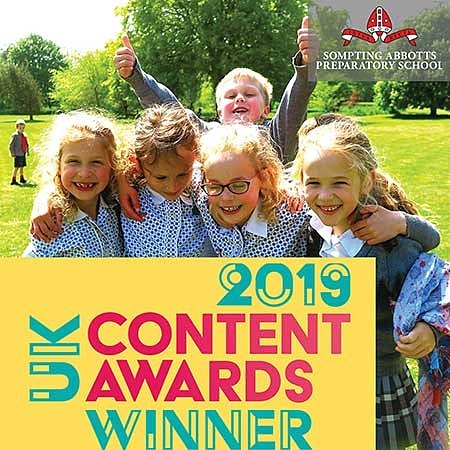 Sompting Abbotts gains national recognition for its content outreach expertise and new website that have helped boost enrolment by 28%. It was runner up to the Open University in its category and described as a 'small school with a big voice'.

The prep school, in Worthing, West Sussex, came runner-up against stiff competition of many well-known organisations in its shortlist category of 10 in which the Open University won first place.

'It was a tough decision for the judges as they felt Sompting Abbotts was a strong contender in the category,'

said the awards organiser Alex Rimmer.

Here's the feedback the school received from Hannah Smith, UK Content Awards Judge:

'The real-world results achieved by Sompting Abbotts are absolutely incredible, and a testament to the quality of the content being produced. Rather than seeking to 'sell' the school, instead, the school's web and video content created, addresses the very real concerns of all parents – from battles over screen time, to the value of outdoor learning, to STEM skills, to winning scholarships.'





'As a result, it's reaping the benefits in the shape of social engagement, increased visits to the site, increased enrolment enquiries, and most importantly, increased pupil numbers. It has proved that it is indeed a small school with a big voice, producing content that is big on heart to demonstrate results. Fantastic work!'





'It's just so fantastic for Sompting Abbotts to be recognised in this way and for people to see what our school has achieved,'

says Stuart Douch, Headmaster Sompting Abbotts.

'There's a new buzz and feel-good factor about our historic school now thanks to our raised profile that is down to our new website and digital marketing efforts.'



To find out more about the school's achievement, visit this link: https://www.connectedcopy.co.uk/sompting-abbotts-case-study

The UK Content Awards is a national competition open to all businesses in the UK. It celebrates excellence in content marketing and rewards agencies, charities and businesses for creating high quality, valuable content which attracts, informs, engages and retains an audience to ultimately deliver traffic and profit.

Each of the categories is judged by a panel of industry experts. The 2019 awards were presented at a gala dinner and awards ceremony at the Montcalm Hotel, London on Thursday 6th June 2019.

Sompting Abbotts Preparatory School is a historic school in West Sussex for children aged 2-13. It was founded in 1921 and is set amidst 30 acres of grounds in the South Downs National Park. The main destination senior schools to which pupils have gained scholarships, exhibitions and awards since 2007 include Lancing College, Brighton College, Hurstpierpoint College, Seaford College, Sherborne, Worth, Dulwich College, Farlington, Burgess Hill Girls and Towers Convent School. E: office@somptingabbotts.com



Abbotts Preparatory School, Church Lane, West Sussex, BN15 OAZ. T: 01903 235960.
E: office@somptingabbotts.com
Sompting Abbotts Preparatory School, Church Lane, West Sussex, BN15 OAZ. Tel: 01903 235960.