September Garden Journal: Plant of The Month – Sedum Purple Emporer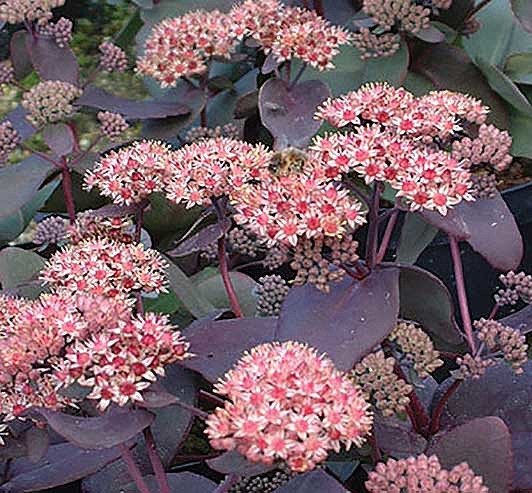 September is one of the highlights of the late summer garden. The autumn flowering perennials are in full bloom and the ornamental grasses are in their prime. The low Autumn light creates great effects as the sun shines through the plants, creating silhouettes and shadows that are not seen any other time of the year. It's a time to wind down and enjoy the result of all your hard work throughout the year, so sit back and relax and make notes of what can be improved for next year.




Plant of The Month – Sedum Purple Emporer


Some plants have so much star quality that they stand out in any planting scheme. With its plum black foliage and dusky stems topped by branching heads of neat buds that open to deep pink stars in August / September, Sedum Purple Emperor is one plant that stands out amongst the other late summer performers. As summer fades Purple Emperor retires gracefully forming a dramatically enduring chocolate-brown dome of tiny stars throughout the winter too. With great purple foliage from spring onwards this little plant couldn't work much harder to provide some form of interest in the garden all year round.
Sedums are great for the wildlife too with the heads of tiny flowers giving weeks of pleasure to bees, butterflies and hoverflies. As a result of this most named sedums have arisen as spontaneous seedlings produced by serendipity - courtesy of the bees. 'Purple Emperor' (named after a rare and elusive butterfly) was spotted as a seedling by Graham Gough, of Marchants Hardy Plants, growing in his parents' garden in East Sussex some 13 years ago.
Dark-leaved sedums normally peak in August, however I have found that all sedums benefit from a "Chelsea Chop" in May to stop them from going leggy and flopping in the autumn. By doing this the flowering period is delayed and prime time for these types can be enjoyed well into September. The fleshy leaves of all sedums store water and they do well in drought conditions however 'Purple Emperor' also shines in cooler, wetter summers too. They prefer a sunny open site and are undemanding, easy plants to grow in a garden of any size.
All sedums are great for the border edge and work best when planted with plants with contrasting foliage. Ornamental grasses of all sizes make great partners as well as the other late summer perennials like Agapanthus, Echinacea's, Dahlia and Aster. The darker foliage of Purple Emperor works particularly well with the bright-orange of pot marigolds and given the right home in your border will work hard to ensure that you have something interesting gong on in all seasons.

Jobs to do this month include:
Ornamental Garden:
• Continue to deadhead.
• Trim Lavenders to woody growth to keep them compact.
• Begin to clear leaves as necessary.
• Keep borders clear of weeds.
• ake cuttings of tender perennials.
• Continue to deadhead bedding plants
• Plan for next year's garden displays.
• Collect seed from perennials / hardy annuals.
• Start planting spring bulbs
• Lift and divide herbaceous perennials.
• Start planting trees and shrubs towards the end of the month and move evergreen shrubs etc while the soil is still warm.
• Collect and get rid of any infected roses leaves.



Vegetable Garden:


• Once the tassels on sweet corn has turned brown check whether the cobs are ready to harvest. When ripe the kernels contain a milky liquid.
• Leave marrows, squashes, pumpkins etc to ripen on the plant. Place fruit on a wooden board to prevent soiling.
• Plant onions / shallots suitable for over wintering (on heavy wet soils spring planting may be preferable).
• Continue harvesting fruit.
• Harvest main crop potatoes.
• Sow winter greens such as land cress, mustard spinach, corn salad and hardy lettuce cultivars.