Ringing Remembers at Steyning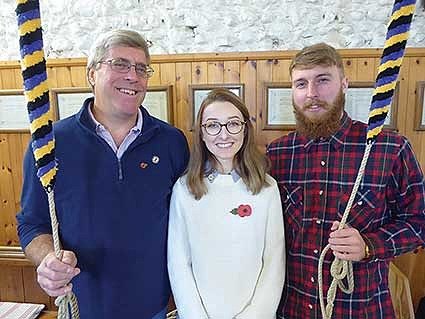 There were many ways in which the centenary of the armistice at the end of the First World War was marked. Back in 1918 church bells rang out to celebrate the occasion; one hundred years on the mood had changed to being one of commemoration rather than celebration but church bells have again been rung.

It had been estimated that at least 1400 church bell ringers had been killed during the First World War and a project was launched nationally to recruit this number of new bell ringers, this was called Ringing Remembers. In Sussex alone over 60 were known to have paid the ultimate sacrifice although we do not know of any from Steyning tower. This aside Steyning bell ringers are always keen to attract new recruits and in recent months we have had three new trainee bell ringers. All three signed up to the national Ringing Remembers project and have made good progress.

Sunday 11th November was particularly busy with ringing for Morning Service; and then at 12:05 we joined ringers around the world at the conclusion of the Ringing Remembers project to mark one hundred years since the signing of the Armistice. Our third ringing session was part of the Battles Over initiative when again bells were rung across the country. There was also the lighting of a string of beacons along with other events.

At each of these we had the three latest recruits to have joined our band; Geoff has been learning since the summer, Lucy and Tom started more recently after moving to the town. We trust they are all hooked and will enjoy many years of ringing in the future. To become a bell ringer you don't have to be musical, strong or a regular church goer, and virtually anyone from 10 years old to 80 can learn.

We are always on the lookout for more recruits to join what is a sociable group of mixed ages, so if you are interested do get in contact. DAVID KIRKCALDY - E: David.Kirky@gmail.com T: 01903 813653.