New 'Welcome' to Steyning'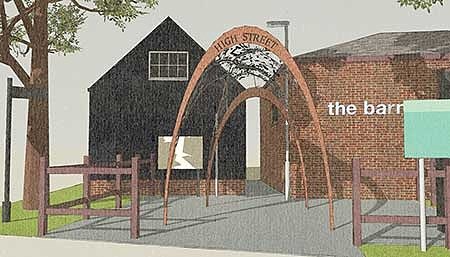 A group of volunteers from the Steyning & District Community Partnership are planning to transform the link from the Tanyard Lane car park (opposite the Health Centre) to the High Street.

Martin Leigh-Pollitt, Chair of the Visitor & Tourism Group, a sub-committee of SDCP, reports that the idea of improving this entrance has been on their list of 'projects to do' for a long time.

At present the entrance is uninviting, unsightly and visitors are often confused on arrival as to where the closest access point is to the centre of Steyning. All in all, it gives a poor first impression to both visitors & residents alike of the superb shops, eateries & businesses that are waiting to welcome them within the High Street.

The Committee felt the route deserved something a whole lot better and discussed with other local groups the possibility of a structure that was visually arresting, clearly marked the entrance and was maintenance free. It also needed to tie in with the Horsham District Council plans to resurface and landscape the car park, so guidance re the structure they would welcome was sought.

Advice was also sought from Nick & Keith Jones of Jones Architects, Steyning, who, as long-time residents, have a keen interest in the area and very generously offered to work with SDCP on the design aspect. They have translated design requirements into a superb, elegant, sculptural, structure that both enhances the visual aspects and demonstrates a successful linkage between Steyning's wonderful heritage and outstanding modern design, whilst fulfilling the practical reasons for this new gateway.

Utilising CorTen laser cut steel, which develops a natural, rusty patina and with its roof detail of open fretwork depicting the ordnance map of the area, it embraces the area's unique history, but couples it with a forward looking approach – open to the best of the new.

This project echoes the themes and criteria of the HDC Year of Culture 2019 and we are hoping for it to be recognised within their umbrella, extending the concept and legacy of this year long celebration far beyond 2019.

Recently, formal planning application has been made to HDC (Ref DC/18/1512). It is hoped it will be approved, as the scheme is part of an overall bid for European funding through LEADER, which will cover the entire cost of the project. This source of funding will cease to exist very soon because of the forthcoming BREXIT, so all those involved are working hard to turn this opportunity into a reality.