Neighbour creates a 'Sunshine Box' outside Croft Meadow Care home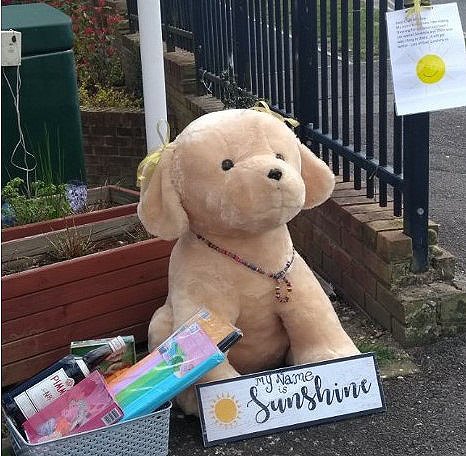 Barbara Buchanan, who used to work at Croft Meadow care home, came up with the idea of a donation box with her sister, Lillian, in the hope that members of the public could leave treats and gifts for those working and isolating at the care home.

So far, residents and staff at Meadow Croft, which is run by Shaw healthcare, have been treated to a range of goodies, including chocolates, flowers, arts and craft materials, and even a bottle of Pimms.

Talking about the initiative, Mrs Buchanan said; 'There have been some fantastic examples of communities rallying round to support our NHS staff for the incredible work they are doing on the front line but, having worked in social care, I also know that there are also thousands of care workers who are going above and beyond the call of duty to keep vulnerable residents safe and well cared for.

People have been leaving items in the 'Sunshine Box' outside the home [on Tanyard Lane] while they're out on their daily walks. Staff are checking it regularly, cleaning the gifts that have been donated and putting them to good use inside the home. It is wonderful to see how people have responded to the idea.'

'Sunshine the Dog' is one of the Croft Meadow mascots and has lent his name to the initiative. Melanie Jupp, from Croft Meadow care home, said: 'Barbara and Lilian came up with the idea of a donation box and we thought it was a wonderful suggestion, especially considering that our residents can no longer have visits from friends, family and those in the local community.

We'd like to thank the public for their generosity so far – we have received some wonderful gifts which will no doubt boost the morale of our team and the residents they care for, during this very difficult time.'

Croft Meadow opened in 2009, with the ability to care for up to 60 people, providing respite and long-term nursing and residential care, as well as specialist dementia and end-of-life care. Residents at the home have always been encouraged to establish and maintain close links with their relatives, friends and the local community.