Museum archives: 'Poor Hickox, Black Will and other stories'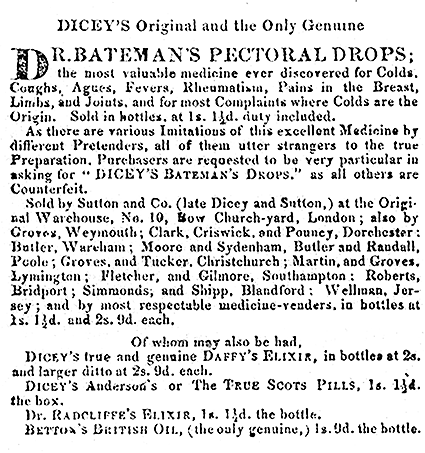 Whenever the Parish spent money on the poor people of Steyning the Wardens and Overseers of the Poor made a note of it. Some of these entries throw quite a quirky light on the lives of our past parishioners. Little escaped their notice.

In 1781, for instance, '

2 pence was paid to the barber for shaving old Sharp'

and, in 1804, the parish paid 2 shillings and threepence for

'2 bottles of Batemans Drops for Poor Hickox'

. 'Batemans Drops' was a tincture of opium and camphor to which was added catechu (an astringent derived from the acacia tree) and aniseed. It was possibly intended for a bronchial disorder but it is questionable how effective it was. 'Poor Hickox' continued to receive three or four bottles a month, paid for by the Parish, until he died 11 years later.

The parish, it would seem, had considerable involvement in ensuring that the dead were decently and respectfully buried. Five shillings was paid to '

The Layers forth of Mrs. Ireland for Cole, Sope, Bran and Gin'

. There were usually two 'layers forth' to wash [hence the 'sope'] and shroud the body, but the provision of bran and gin suggests that the 'layers forth' also expected to be provided with food and drink. Then, when the friends of Mrs. Ireland came to her 'wake', the Parish contributed a further

'5/- for Bread and Chease and Beer for Mrs. Irelands Beriel'.



Most records, of course, are not about death but about caring for the poor while they were still alive. In the days before the rigorous Victorian poor laws were introduced, when Steyning had its own workhouse in Mouse Lane,

'Sheeting'

and

'Frocking'

was woven by women, who were forced by poverty to go into the workhouse, as a contribution towards the cost of their upkeep. These fabrics would have been used for shirts, sheets and smocks (which were sometimes known as 'round frocks'). The woven fabric was then bleached (or 'wighted') and sold by the ell by the Parish. It was known as

'Parish Cloth'

. An ell measured 45 inches and it was reckoned that 3 ells were needed to make a shirt. To limit the number of people being sent to the workhouse some activities, such as the spinning of thread for the Parish Cloth, were encouraged and supported within the home. To this end we know that a spinning wheel was bought by the Parish for Dame Sone for 4/- and another one for Dame Brackley at 3/6.

Payments recorded in this way were not always for the poor people of the parish. In 1783 the warden's book notes an exciting episode when they were

'Paid 4/- for apprehending James Gates – who was afterwards rescued by a Man commonly called Black Will and others'.



It was not the only occasion when they failed in their mission – but didn't forget to claim their expenses. In 1793 the overseer claimed

'13/6 Horse hire for Richard Lomghurst and myself'

: when they had to get to Findon to persuade a magistrate to issue a warrant for the arrest of Henry Parsons. The next entry was a claim for a further '14/- Horse hire and expenses for Richard Longhurst and myself when we went to apprehend Henry Parsons.

We were obliged to hire a Person to Identify him, but after waiting at Littlehampton the whole day we received information that he was gone off'.



This all involved a considerable amount of effort on the part of people, who were not paid by the parish for the time they spent dealing with these matters. All those hours spent trying to trace and apprehend Henry Parsons, for example, were hours during which they could not work at their own trades. It says something about how Steyning, as a community, managed its affairs and it is not surprising that the individuals concerned were so meticulous in recording their expenses.