Museum archives: Outspoken...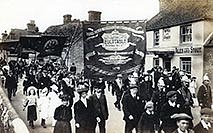 Our forebears did not mince their words. Steyning townsfolk who paraded down the High Street a hundred years ago to raise funds for Worthing Hospital carried a large banner on which was emblazoned the words 'Sickness is ever present, Death comes to us all'.

They were also explicit when it came to court cases. Sir Thomas Farnfold, described as a king's pensioner living at Gatewyck, was M.P. for Steyning in the 1620's. When, in 1636, his first wife died he married a widow called Elizabeth Cudmore. The vicar of Elizabeth's old parish evidently did not think highly of her and, during one Sunday's service he 'most uncivilly and scandalously before a great congregation' called her 'Goldback Jade, Mangy Jade, and feend, and other ill and base tearmes.' A 'jade' at that time would have been understood as being a broken down old horse so the insult was pretty provocative. We might never have known about this attack on Elizabeth had Sir Thomas not chosen to take the vicar to court, thereby ensuring that the slur on his wife's name would be recorded and would echo down the centuries.

A more serious dispute arose when Sir John Honeywood – the sponsor of one of Steyning's parliamentary candidates – made 'some harsh expressions' about the Duke of Norfolk – the sponsor of the other candidate – during the election of 1791. We don't know what these 'harsh expressions' were exactly but they were sufficiently inflammatory to cause the Duke to challenge Sir John to a duel. The Duke persuaded his friend, the Earl of Suffolk, to act as his second and arranged for the services of a surgeon. Luckily other friends were able to 'procure an amicable termination of the dispute' – so amicable in fact that, shortly afterwards, the Duke bought all of Sir John's 80 or more Steyning properties for £40,000.

Outspoken views may also be found in diary entries. An elderly lady who lived in Steyning during the last war shared her thoughts with her diary. 'I said I would never grumble about the radio again' she wrote 'but I went up in the air last week when they started a woman as an announcer. Surely we have troubles enough without that.' Later in the war she became even more exasperated with the BBC 'they go from bad to worse and sillier and sillier. An announcer is to broadcast standing on his head.' This is someone who may have been viewed as something of an eccentric. She recorded in her diary that she treated a cold by pouring dilute boric acid down her nostrils, she equated blood transfusions with 'cannibalism', and told her neighbour off for using cosmetics with the words 'we got through the last war without lipstick.'

A quite different sort of document was created between the 16th and 18th centuries to guard against evil and disaster. The one in the Museum's collection appears to be a charm for safe child birth. After various fairly extreme scriptural exhortations it sets out what might be described as its 'terms and conditions.' 'If you Doe not belive these things' it says 'I'll Send you blak worms so great and so perilous [that they] shall Destroy your children and goods.' As the introduction to the letter explains that it was 'written with Jesus Christ's own hand In Letters off Gold' it does make one wonder what the gospel writers would have made of it.

Like that banner paraded down Steyning's High Street centuries later, it certainly pulled no punches.