Horsham District Year of Culture Reading Challenge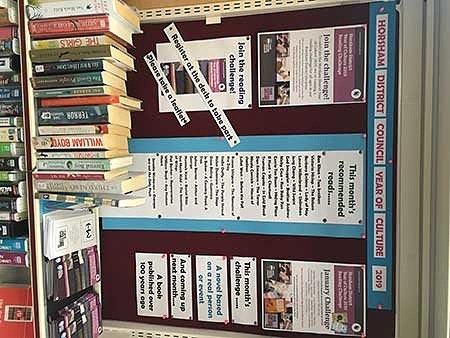 To celebrate the Horsham District Year of Culture, West Sussex Libraries are running a reading challenge across the seven Horsham district libraries – Horsham, Storrington, Henfield, Steyning, Billingshurst, Pulborough and Southwater.

The challenge is to make twelve reading resolutions that will inspire you, challenge you and connect you to fellow readers in the district.

You can sign up by popping into any Horsham district library with your library card (or some ID) or by giving them a call.

Find out how to contact your local library here: https://www.westsussex.gov.uk/find-my-nearest/library/

You might want to join as an individual reader, looking to kick start a reading habit or get out of a reading rut. Or perhaps you would like to join as part of a reading group. However you choose to be involved, anyone is welcome to take up the challenge. You can join at any time, and don't panic if you miss a month – just read as many as you can and most importantly, enjoy!



So what is the challenge?



Read a book each month from the following themes:

• January read a novel based on a real person or event

• February read a book published over 100 years ago

• March read a collection of short stories

• April read a book under 150 pages

• May read a book that was banned at some point

• June read a translated book

• July read a book with a connection to Horsham District

• August read a book written by someone under the age of 30

• September read a book recommended to you by a friend, librarian or neighbouring book group

• October read a prize winning book

• November read a children's classic

• December read a book published this year

Every month, they'll be posting lists of recommended reads and book reviews for books that fit the themes to their reading challenge blog, which you can find at https://horshamdistrictreadingchallenge.wordpress.com.

They are also inviting local people to submit reviews - you can get in touch by commenting on the blog posts or using the contact us form on the blog. For more information and to sign up, pop into Steyning or any other Horsham district library.