Gardening News - Brunnera-Jack-Frost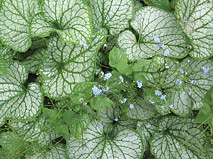 More and more signs of life appear in the garden as March arrives, bringing with it some warmth and spring sunshine. If you look closely you can almost see spring arrive as the weeks pass us by and the garden shows signs of life again. Don't be fooled by those bright sunny spring days, Winter hasn't quite left us yet. Be mindful not to plant tender plants out too early – there's still the possibility of "Jack Frost" shocking your plants back into winter dormancy.



Plant of The Month – Brunnera Jack Frost



There's nothing quite like a Brunnera to light up that patch of shade in your garden. Brunnera macrophylla, with airy sprays of blue forget-me-not flowers and dense mounds of neat foliage, is a mainstay of many shady gardens but rarely receives the attention it deserves and often overlooked in the summer. However, every March the dramatic displays provided by this forgotten treasure, will remind you of why you planted it.

Until recently, there were few cultivars of B macrophylla. In the Sixties a selection with unpleasant cream-variegated leaves was introduced doing nothing to enhance the plant's reputation. About the same time another cultivar, 'Langtrees', with a row of aluminium-coloured spots around the leaves, arrived. Close up, the leaves are handsome but the overall effect uninspiring. Then 'Langtrees' appeared with distinctive silvery-white leaves, a green edge and green veins. This was named 'Jack Frost' and fast became a star of shady gardens. The bright blue flowers start February, continuing to June and are spectacular partners with the silver foliage.

Brunnera is best grown away from direct sunlight. Dappled shade under deciduous trees and shrubs is ideal. In the wild it grows in the Caucasus mountain forests, where temperatures are cool, air moist and the soil rich. Although these are the ideal conditions, established plants can tolerate periods of drought. 'Jack Frost' and others with variegated foliage prefer deep shade and shelter, to retain their silvery leaves. Best to remove dying foliage in the autumn, or it will die disgracefully. In winter it rots and covers the plant like 'dirty old rags'.

Brunnera makes great groundcover and mass plantings in flower are spectacular. Combinations include spring flowering herbaceous plants that like the same conditions. Dicentra spectabilis 'Alba', Hellebores and ferns are great partners, as the textures of the leaves work well together later when the flowers disappear. If growing in light shade, add some Geranium Rozanne into the pick for a punch of colour.

Jobs to be done in March:
Ornamental Garden:
• A general fertiliser could be applied over borders if felt necessary. If leaves look yellow on shrubs apply a folate liquid feed via watering can.
• Aerate lawn if mild and not waterlogged.
• Remove any dead, diseased or damaged growth from trees and shrubs.
• Finish mulching if not done in Autumn.
• Put manure / rose feed around all roses and check for dead, diseased or dying shoots.
• Deadhead bulbs regularly.
• Now is a good time to plant new Perennials and summer-flowering bulbs. Re-pot or top-dress all containers.
• Weed regularly.
• Edge / define all borders if not done already.
• Plant Roses.
• Sow hardy annuals for summer colour.
• Repair damage to lawns if necessary.
• Harden off hardy annuals sown under glass.
• Cut back any remaining growth from herbaceous/grasses left over from the winter.
• Divide summer flowering perennials like astrantia, hemorocallis, hosta etc.
• Coppice dogwoods/willows etc if not done before now.



Vegetable Garden:


• Prune Gooseberries and red and white currants. Remove deadwood and then spur prune all sides hoots back to 2 – 3 buds from the base. Shorten branch tips by one quarter.
• Direct sow shallots and onion setts.
• Harvest the last of the winter crops and compost any undiseased debris.
• Sow aubergines, cucumbers, tomatoes and chillies in an indoor heated propagator.