Front Cover: Steyning Christmas card - Benita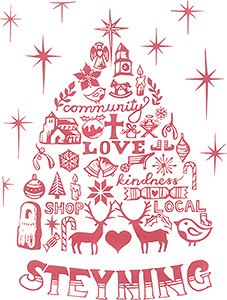 Hi, I'm Benita, a local Steyning resident, and I love arts and crafts generally! A couple of years ago I attended a beginner's linoprint course in Hove, run by Lawrence's Art shop, and I remembered how much I loved lino printing many moons ago whilst at school.

During the course I created a Boba Fett print for my son's bedroom. Amazingly, a friend of mine saw this print and asked if I'd like to work with the Riverside Brewery on a project to create some artwork for their ales and branding. I jumped at the chance and 'Up the Adur' was created which depicts the Adur and it's surroundings from Shoreham Airfield and Lancing College all the way up to Bramber castle, over to Devil's Dyke and of course the brewery buildings at Upper Beeding.

The 'Steyning Map' was a project I'd had in mind for a while. It took approximately 40 hours to carve as it's quite detailed, or was I just spending my time making endless cups of tea to keep me going! It's quite popular as a print, and it's now available as a tea towel. The map can be printed with a specific house highlighted in a different colour, if you can find your house that is. I've completed a few commissions for special occasions and I love including secret details that can only be spotted if you know what to look for, such as birth dates hidden in trees and birth flowers.

Simon Zec, a local poet, asked if I could create an image for his new book, 'In the Downtime', which was a lovely project to get involved in alongside Rob Winterson who created the artwork within the book and on the back cover. Simon wanted the print to be a simple image of the downs and to reflect the poem 'In the downtime', which describes seeing the light in the gaps and hopefully I've captured that a little. The book and prints are still available at the Steyning Bookshop.

I wanted to design a little Christmas image for this issue's front cover, and it turned out well enough that I decided it ought to be a Christmas card in it's own right. I've sold out of the few that I had printed, so I'm busy printing more in time for the Steyning Arts Christmas Gift Fair on 5th December! I'm thoroughly enjoying my little venture into being a printmaker, building my portfolio and updating my Etsy store (https://www.etsy.com/shop/BenitaHibbert).

Please get in touch if you would like any information about my prints, benitahibbert@gmail.com, or follow along on instagram @benitahibbert.